This is a Sponsored post written by me on behalf of Slim-Fast. All opinions are 100% mine.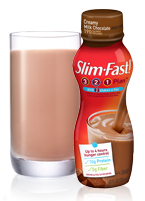 I first tried Slim-Fast a few months ago after a friend recommended it to me when I was trying to lose a few pounds before being a bridesmaid in another friends wedding. She was (and still is) and avid Slim-Fast shake drinker and said they taste just like a milk shake, so I decided to give it a try.
I was actually very impressed with the Slim-Fast shakes and ended up trying out the 3-2-1 plant to help lose those few unwanted pounds right before the wedding. I've never been one to stick to any kind of weight loss routine but I was shocked when I realized how easy it was to stick to the 3-2-1 plan. 
Here's how the 3-2-1 plan works: You get to eat 3 snacks, 2 shakes and/or meal bars, and 1 balanced meal a day. This particular plan gives you quick results and would be great for shedding a few pounds to help you look your best on Christmas, or to help you shed those few pounds you gained eating all those yummy snacks at Christmas parties! 
With so many tasty snack and meal bars, the Slim-Fast 3-2-1 plan is a super easy way to help you lose weight and now Slim-Fast is making it even easier with their best tasting shakes ever. Available in 5 different flavors, these shakes are delicious and convenient for taking your meals on the go. I was able to try the Creamy Milk Chocolate Slim-Fast shake and it's even better than it was before, which I didn't think was possible!
I would definitely recommend Slim-Fast to anyone looking to lose a few pounds this holiday season.. It worked for me and it'll work for you too! Slim-Fast products are available at Wal-Mart, Target, Safeway, and Kroger and online at Amazon.com and the Slim-Fast 3-2-1 Store on Facebook. Be sure to like Slim-Fast on Facebook to stay up to date on all of their new products.