Did you know that the last week of September has been designated as "Keep Kids Creative Week"? Well, we've decided to make a fun giveaway hop out of it, and give our readers the chance to win some fun products to keep their kids creative!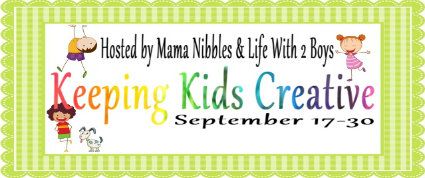 When:
The giveaway hop will begin on September 17, 2012 at 12:01am EST and will end on September 30, 2012 at 11:59pm EST
Requirements:
* All participants must have a giveaway specifically for this event that runs the duration of the event
* All participants must find their own sponsor(s) and host the giveaway on their own blog. You may sponsor your own giveaway if you wish
* The prize/prize package should have a minimum value of $25 and fit the "keeping kids creative" theme- art supplies, coloring books and crayons, craft supplies, kids cooking utensils and cookbooks, toys that inspire imagination, building blocks, books, musical instruments, costumes, and anything else you can think of to create fun!
* Display the event button in your post so hoppers can easily identify it
* Display the linky in your post to encourage hopping
* All participants must abide by FTC and Facebook rules and regulations
* Please limit the mandatory entries to only 1 or 2.. No limit on extra entries
* Most importantly.. Have fun and try to win a few prizes for yourself as well!!
Sign Up:
Sign-ups will close on August 31st. This is a FREE hop with a paid option to be on the Grand Prize Rafflecopter (info below).. It would be great if you could spread the word by writing a blog post, tweeting, sharing on Facebook, grabbing the button, etc...
Grand Prize Info:
We have several amazing Grand Prize sponsors for this hop and over $750 in prizes! Want to be included on the Grand Prize Rafflecopter? The fee is $5 for two links (Facebook and Twitter) which will go towards advertising and promoting Keeping Kids Creative.
Fill out the form here
. Space is limited to 15 blogs so claim your spot now!