Trevor is the type of kid who is always on the go, and more times than not his sippy cup is right along with him. He is big enough to drink out of regular cups, which he does do on a regular basis, but for the most part we like to stick with sippy cups so I don't have to worry about juice being spilled all over the house. When it comes to sippy cups I always look for
spill proof cups
, but unfortunately we've had cups in the past that truly weren't spill proof... That's why I love Tommee Tippee spill proof cups!
Explora Truly Spill Proof Drinking Cups
and we absolutely love them! Trevor loves them because of the super fun and colorful designs and I love them because I no longer have to worry about leaks. Thanks to their active sensor valve which is designed to be both sensitive enough that liquid flows on demand, yet truly spill and leak proof at the same time, these cups have not leaked once in the month or so that we've had them!
These sippy cups have an insulated base to help keep drinks cold, making them perfect for the upcoming summer months. They're super easy to take apart for cleaning, and they're dishwasher safe, which is a big plus for me. And they are 100% leak proof, it really doesn't get any better than that!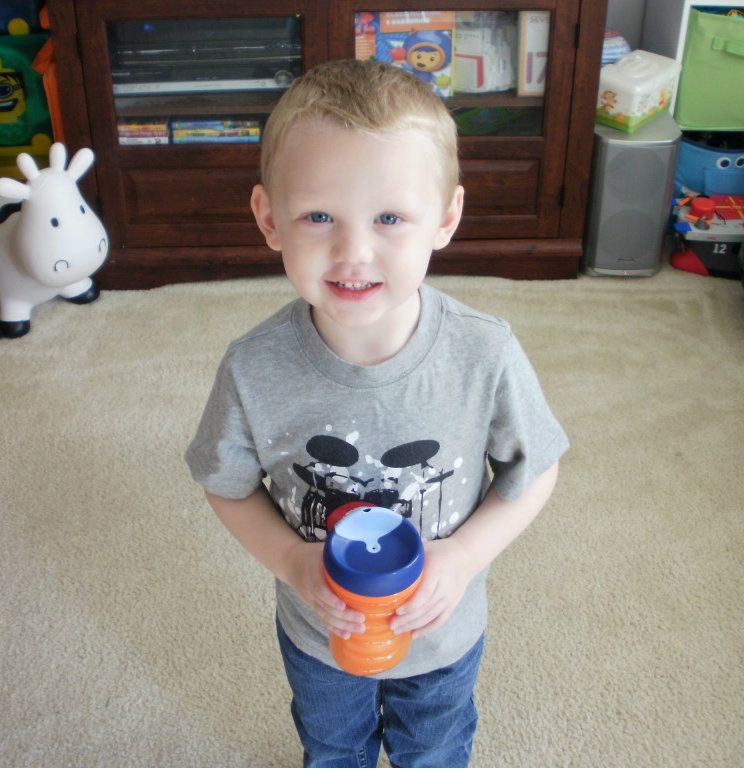 Available in a variety of fun colors and designs for both boys and girls, the
Tommee Tippee
Explora Truly Spill Proof Drinking Cups are available for $8.99 for a set of two at Toys R Us and Babies R Us stores nationwide.
And guess what? I have some exciting news...
Tommee Tippee is offering a fun prize pack that includes a set of the same drinking cups, their explora roll and go bibs, and explora easi-mat and bowls to one lucky reader during Shake, Rattle, & Roll! Be sure to come back next week and enter!
Disclosure: I was provided with the product(s) mentioned above free of charge by the company or PR representative for review purposes. I was not compensated in any other way for this post. All opinions are my own.