One of the best ways to keep kids creative is to provide them with fun and engaging arts and craft activities. While a piece of paper and some crayons will usually do the trick, sometimes kids want to do more hands on activities... That's where Green Kid Crafts comes in!
Perfect for kids ages 3 to 8, Green Kid Crafts delivers creative and
earth-friendly craft activities
right to your door! Every Discovery Box is packed with three unique activity kits designed to encourage kids to be creative while developing their respect and love for the environment at the same time. In addition to the materials and instructions for the three craft activities, each Discovery Box includes a Discover More guide which provides more craft ideas using materials found around the house, related reading and other fun facts all related to that month's theme.
We were recently sent a Discovery Box with a "Feathered Friends" theme to review. The three
activity kits
included were bird puppets, a birdhouse, and a spotting scope, all of which turned out to be super fun and engaging for my boys! Each kit comes with most of the materials you need, minus a few things you most likely have lying around the house such as glue, scissors, etc... And each kit encourages kids to be creative in a different way.
Our favorite of the three activities was definitely the birdhouse! The kit comes with the wooden pieces for the birdhouse that you put together like a puzzle, the twine to hang it, and paint/paintbrush to decorate it. I easily put the birdhouse together in just a few seconds and the boys had a blast painting it.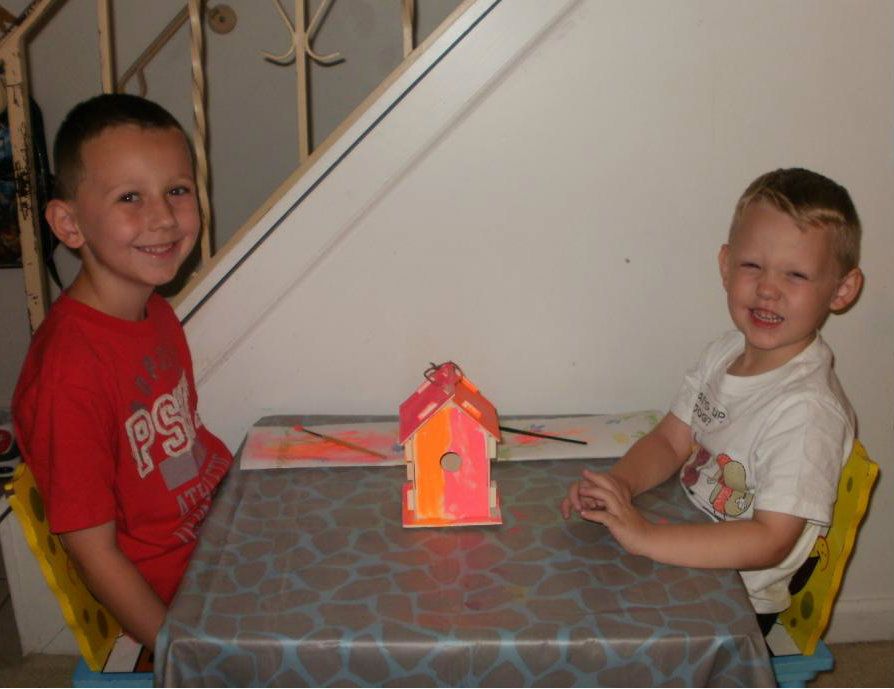 Green Kid Crafts
activity kits are the perfect way to encourage kids to be creative and use their imagination! Subscriptions are available in month-to-month, 3, 6 and 12 month durations for $19.50 a month and they can also be gifted for Birthdays, Christmas, and any occasion.
Be sure to come back between September 17th and 30th for your chance to win a One year subscription to Green Kid Crafts during Keeping Kids Creative!
Beginning September 17th: Vote for your favorite creative blogger photo and help raise money for charity. Pick your favorite photo from our September Discovery Box and, for each vote, Green Kid Crafts will donate 50¢ to Healthy Child Healthy World - a non profit working to inspire, educate and empower parents to create a more healthy environment for their children. The blogger whose photo gets the most votes will receive a 6 month subscription to Green Kid Crafts to award to one of their readers (announced 10/1)! **Vote for Life With Two Boys**
Disclosure: I was provided with the product(s) mentioned above free of charge by the company or PR representative for review purposes. I was not compensated in any other way for this post. All opinions are my own.