When I was a little girl friendship bracelets were the coolest thing ever. I remember sitting around with my friends for hours making bracelets to share with each other. Well, when I heard about the
My Friendship Bracelet Maker
I jumped on the opportunity to try one out.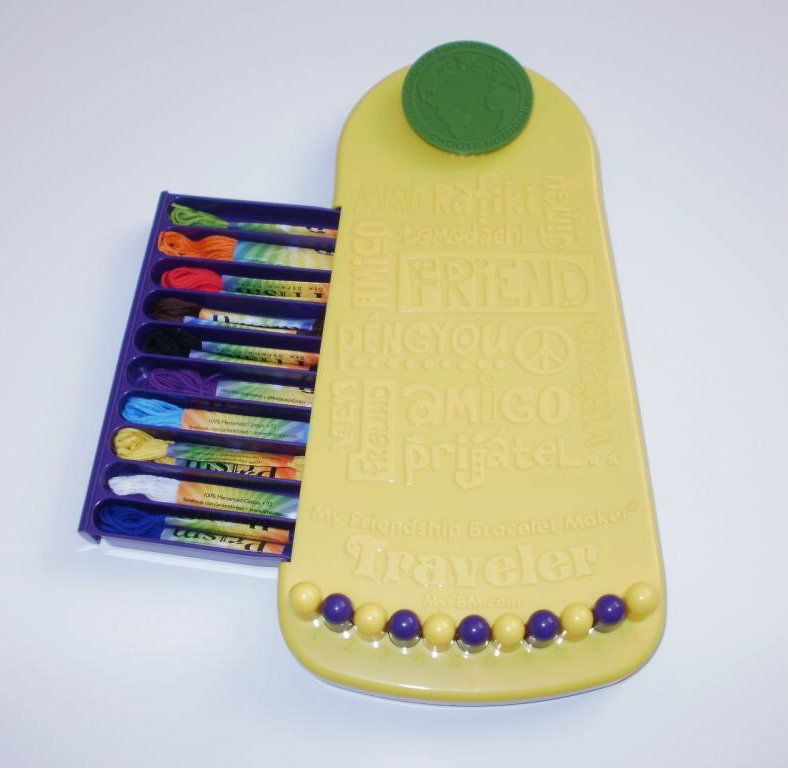 We were sent the My Friendship Bracelet Maker Traveler to review and it has really brought me back to when I was a little girl. First of all, I have to say how much easier it is to make bracelets with the My Friendship Bracelet Maker than it was back in the day. When I was little we used to tie the end of the thread to a safety pin and pin it to our jeans to make it stay in place... But with the My Friendship Bracelet Maker Traveler you can easily clip the thread in place and be on your way to creating friendship bracelet masterpieces!
What I love about the My Friendship Bracelet Maker Traveler, besides the fact that it's so easy to use, is the portability of it. It's the perfect size to take on vacations, long trips, and even on an airplane to keep the kiddos occupied. The nifty slide-out storage drawer makes it super easy to make sure you have all your embroidery thread with you, plus it's a great way to stay organized.
The My Friendship Bracelet Maker Traveler is great for beginners just learning how to make
friendship bracelets
and also for the more advanced users. It has colored, numbered slots to keep the threads organized while you're working so you don't have to stop and try to remember which one you were using and they even offer how-to videos and lessons on their website.
Think your kids would love a My Friendship Bracelet Maker Traveler of their own? You can purchase one for $16.99 online at QVC and in stores at Toys R Us and Michaels. And be sure to come back for your chance to win one during Keeping Kids Creative!
Disclosure: I was provided with the product(s) mentioned above free of charge by the company or PR representative for review purposes. I was not compensated in any other way for this post. All opinions are my own.