"Cuddle Cuddle Uppets, Cuddle Cuddle Uppets, Blankets That Are Puppets..."
CuddleUppets
are all the rage these days. You can't turn on the t.v without seeing their commercial and hearing that ridiculously annoying but super catchy song of theirs. And of course my boys (like many kids) have been begging for CuddleUppets ever since they saw that commercial for the first time.
So what exactly are CuddleUppets? Well, they're basically just as the song says! They are cuddly blankets and cute puppets all rolled into one adorable package. There are six cuddly friends to choose from including Pink Poodle, Purple Monkey, Yellow Puppy, Green Crocodile, Lady Bug, and Unicorn.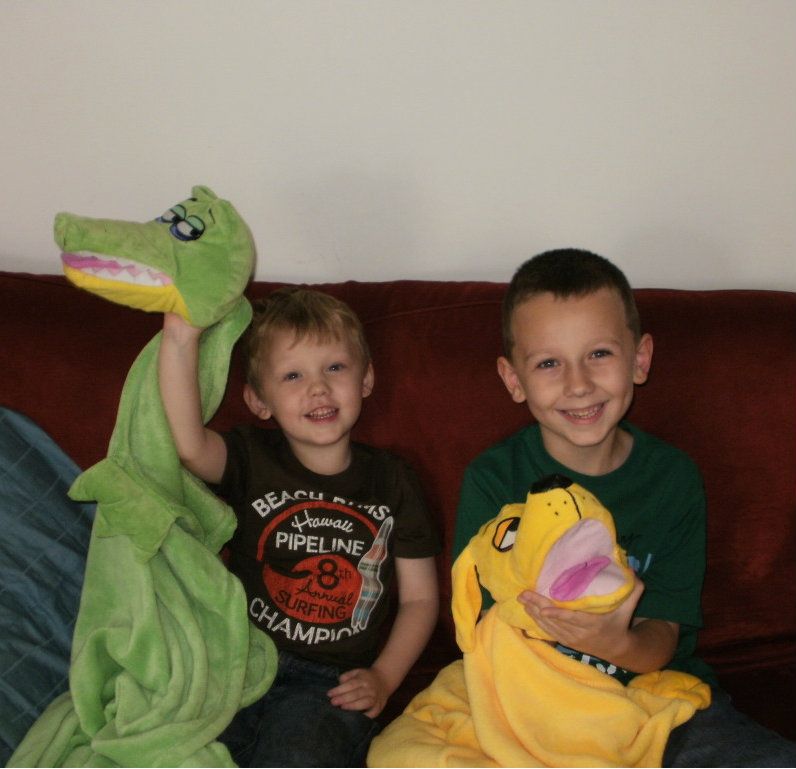 We were recently sent Yellow Puppy and Green Crocodile to review and my boys couldn't be happier. They love to play with them as puppets and they especially love to cuddle with them on lazy days and at bed time. The blankets are super cozy and the puppets are just as goofy looking in person as they are on t.v. Overall, I'd say they're exactly what we expected them to be!
CuddleUppets can be purchased for $19.99 plus $8.95 shipping & handling... But if you buy more than one at a time you receive a discount on each additional CuddleUppet. I'm sure these are going to be on a lot of kids' Christmas lists this year so you should probably order soon while they're still available!