I love Christmas! I love picking out our Christmas tree every year and I especially love decorating the house for Christmas, inside and out! We're not the type of people that have a themed Christmas tree, it's more of a hodgepodge of ornaments representing everything that has happened in our lives including an ornament from Nate and I's first Christmas, our first Christmas as a family, both of our boys' first Christmases, and of course all of our favorite things from cartoons, to snowmen, and everything else.
Well, my favorite type of ornaments are personalized ones so when I discovered Ornaments With Love and their vast selection of personalized Christmas ornaments I fell in love! Of course I was super excited when they offered to send us an ornament to review. Their website is very easy to navigate and you can choose from different categories to make finding the perfect ornament for you quick and painless.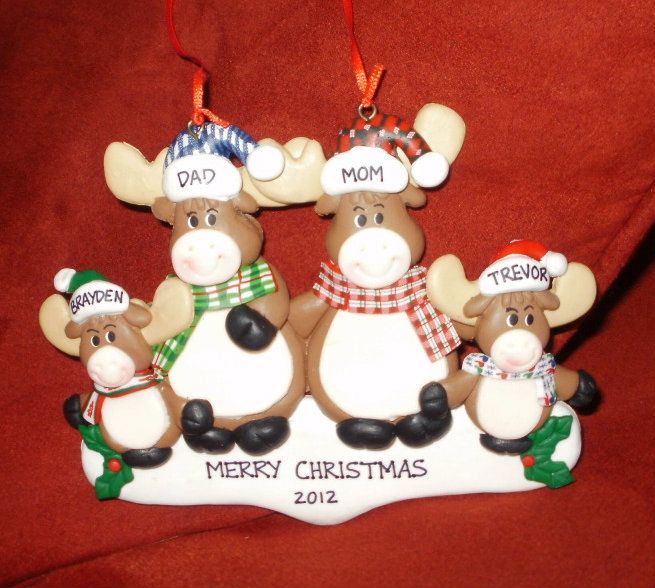 I happen to be in the market for a new ornament that represents our family so I decided to go with this really cute personalized moose family Christmas ornament to review. This ornament is made of clay dough and is available with one, two, or three children. Each of the moose has a little spot on their hat that can be personalized with the names of each member of your family plus there's even room for a banner message along the bottom.
Our moose family ornament arrived a few weeks ago and I'm very pleased with the way it turned out. There's a lit of nice detail in the moose figures from their hats and scarves, to their facial expressions, and even their little hooves. The ornament is nice and lightweight making it perfect for any size Christmas tree and I think it's going to look absolutely perfect hanging beside the rest of our ornaments this holiday season!
You can purchase the personalized moose ornament for $14.95 to $15.95 depending on the amount of children you choose and personalization is included.
One lucky reader is going to win their choice of any personalized ornament from Ornaments With Love!
Enter using the Rafflecopter form below.
a Rafflecopter giveaway