I have been a tad bit obsessed with Stephen Joseph products for some time now. The designs are always adorable and the products are absolutely perfect for kids of any age.
Posy Lane
, an online webstore specializing in personalized gifts for children, carries a large selection of Stephen Joseph products and I was very excited when they offered to send us something to review.
We were sent a
Stephen Joseph sports-themed Nap Mat
to review. This nap mat has a football shaped removable pillow, attached blanket covered in all sorts of sports icons including a baseball and bat, basketball, and a soccer ball, and straps that allows the nap mat to be carried like a back pack making it easier for kids to carry back and forth.
Trevor doesn't go to a preschool where he needs to bring a nap mat but I know that there are a lot of kids out there that do and I personally think that these nap mats are perfect! The sports-theme is perfect for any little boy and the football shaped pillow is definitely a nice added touch.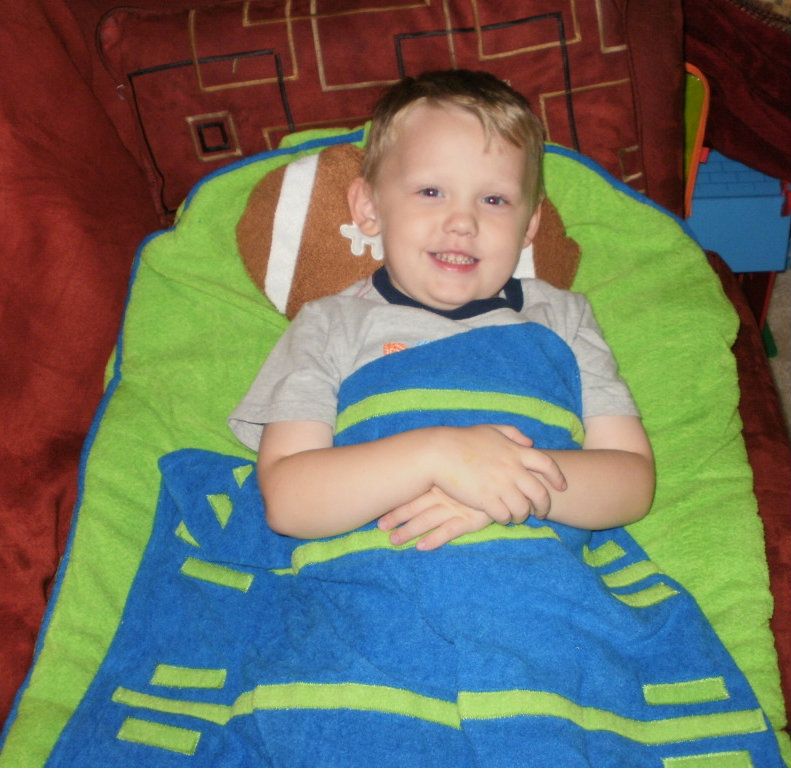 The great thing about these nap mats besides the fact that they're machine washable and super soft, is the fact that they can be personalized with your kids name so they're easily identified at preschool and day care. Posy Lane even offers Stephen Joseph quilted toddler backpacks, lunch totes and duffle bags to match this sports nap mat.
You can purchase this or other
personalized nap mats
from Posy Lane for $52.95. Be sure to follow Posy Lane on
Facebook
to stay up to date on new products and promotions.