Trevor is all boy! He loves trucks, airplanes, helicopters... Basically anything that moves. He especially loves racing them down ramps and driving them off of cliffs so when I saw the new Big Adventures Action Fliers play set from
Little Tikes
I just knew it would be perfect for him!
Product Description:
Kids can go anywhere they want to go with their very own airport playset. Kids will love to launch the airplanes off the tower and watch them fly or taxi the planes to the hanger down the spiral tower. Guide the helicopter in for a landing by turning on the tower lights and sounds! Kids will think big with this Big Adventures Little Tikes play set!
The Little Tikes Big Adventures Action Fliers comes with a helicopter and a landing pad, a truck, and two foam airplanes that can fly off of the truck when zooming down the ramp. The landing pad has fun lights and sounds and there's even a little garage for the truck. This play set literally has all the bells and whistles for endless fun.
We were recently sent the
Big Adventures Action Fliers
play set to review and Trevor absolutely loves it. It's the perfect height for him to stand and race the truck down the ramp and watch the airplanes fly off. He especially loves that there's more than one ramp to play with. He can send the truck down the spiral ramp one minute then down the tower ramp the next.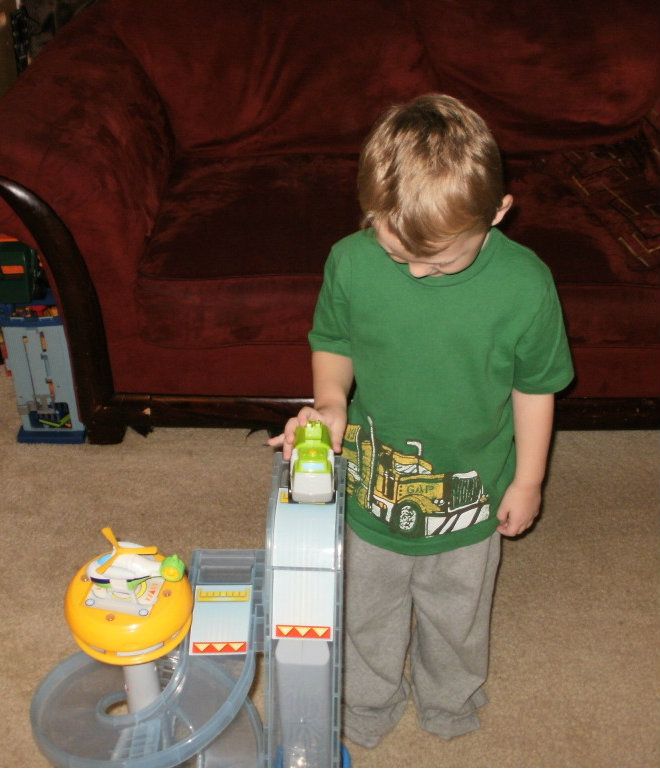 Trevor has a blast every time he plays with this play set and it has definitely been a hit but I do have to admit that I'm not overall pleased with the set up. Unfortunately it falls apart every time you move it even the littlest bit so it needs to be put back together every time he wants to play with it... Luckily it's really easy to be pieced together so I don't mind too much.
The Big Adventures Action Fliers play set can be purchased from Little Tikes for $39.99 and in retail stores nationwide. It does have it drawbacks but I would still recommend it to anyone with little boys. It's definitely fun for them and is sure to be a hit this holiday season!
Guess what?! One lucky reader is going to win their very own Big Adventures Action Fliers during the Happy Holidays Giveaway Hop happening November 15th through 29th so be sure to come back for your chance to enter!