I am a Pinterest addict! It really is the hot thing right now and I just can't get enough of it. I'm always on Pinterest looking for recipes or craft ideas. Well, now with the help of Verizon, my Samsung Galaxy S III, and the Pinterest app, Pinterest just got a whole lot cooler!
As I said previously I love to look for new recipes on Pinterest. It's easy to search for a good one, pin it it to your board, and come back later to try it out. Well, have you ever been at the grocery store and just couldn't figure out what you wanted to make for dinner later in the week and wished you had a cook book (or something) with you to help you come up with an idea? Now you can take Pinterest with you, search for that recipe you pinned last month, and find all the ingredients you need to make something your family is going to love... Pretty cool, right?!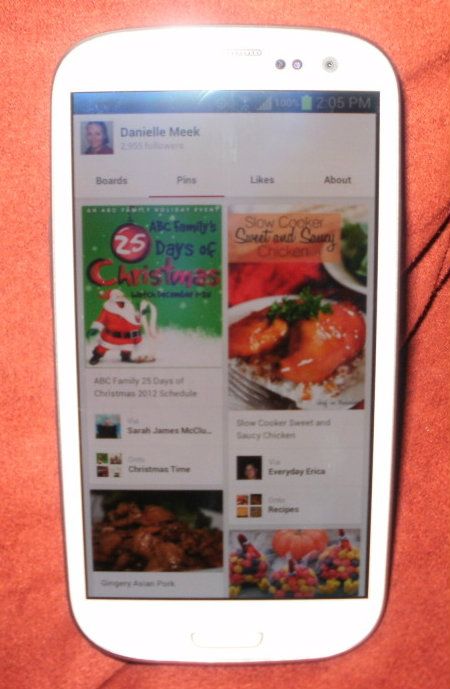 Thanks to this super cool app that I recently discovered I always have Pinterest with me. Whether I'm at the grocery store, craft store, or I simply want to show a friend something that I discovered I know that I can rely on my Samsung Galaxy S III and my Pinterest app to make that possible.
Are you a Pinterest addict? What are some things you pinned recently?
Disclosure: I am participating in the Verizon Wireless Midwest Savvy Moms program and have been provided with a wireless device and six months of service in exchange for my honest opinions about the product.