Both of my boys think they're little rock stars... They have guitars, microphones, harmonicas, you name it... But one thing they both really wanted was a drum. Now, I'm not going to go out and buy them a big drum set, my ears aren't ready for that yet, but I think the Musical Band from PlanToys is a nice compromise.
Not familiar with PlanToys? PlanToys offers a variety of fun and educational
wooden toys
made from preservative-free rubberwood. Their toys enable children to play, learn, and become closer to nature. Recently PlanToys introduced their newest product line, PlanWood, which are toys made from the rubberwood sawdust created by the manufacturing of other items by Plan Toys.
The Musical Band, which we were sent to review, is one of their newer products and is part of the PlanWood product line. The Musical Band is the perfect
kid-sized musical set
and stands over 13 inches tall. The set features two different sized drums, a pair of drumsticks, a cymbal, and a guiro and is absolutely perfect for little rock stars!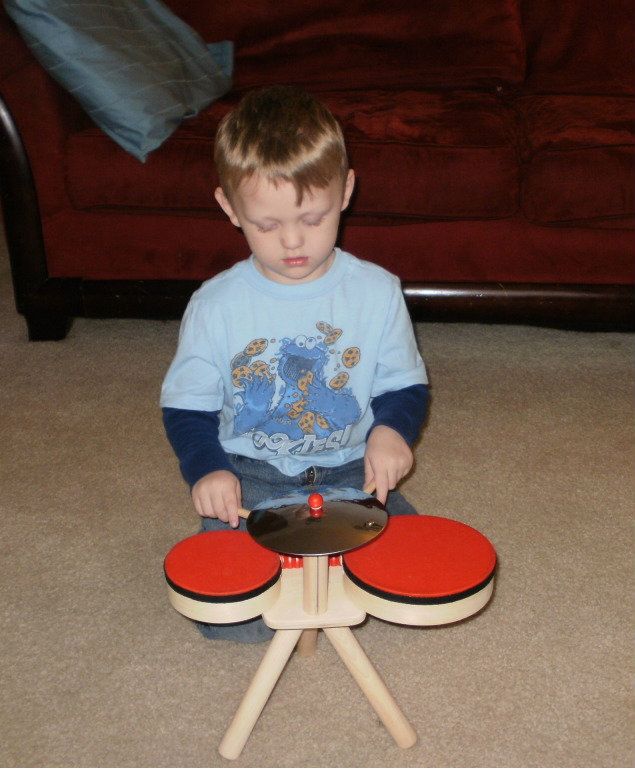 We've had the Musical Band for a few weeks now and it has definitely been a hit! It's a great way to inspire my boys' musical side and best of all it's very durable. Of course it can be a little loud, especially the symbols, but most kids toys are these days!
You can purchase the
Musical Band
from PlanToys for $54, and be sure to check out the other toys they have availableincluding dollhouses, building blocks, play food, puzzles, baby toys, and more.