The holiday season is upon us and that means lots of good times to be had with family and friends. It seems like every time you turn around there's a holiday party, gathering, or event to attend, and if you're anything like me you're sitting there wondering what to bring?
Do you bring along a batch of delicious homemade chocolate chip cookies that you know everyone will love or do you step outside of the box and try something new, like perhaps
Garlic Mashed Potatoes & Cauliflower
?
Well, there is one thing I know for sure... Whatever I decide to make will be made with Country Crock Spread. Country Crock has always been my go-to and I love that they not only offer their original spread but also different flavored spreads like pumpkin spice and honey spread... YUM!
I was recently provided with a Country Crock Holiday Veggie Kit that helped equip my kitchen for this hectic time of year. So, what's included in the Country Crock Holiday Veggie Kit? Well, there was a coupon for a FREE tub of Country Crock, veggie preparation tips, four Country Crock holiday recipes including Holiday Broccoli Saute, Baked Spiced Squash, Garlic Mashed Potatoes & Cauliflower, and Easy Creamed Corn, a Vegetable Chop & Measure, and a Calphalon Contemporary Nonstick Bronze 12" Frypan.
I'm super excited about trying out these yummy veggie dishes this holiday season, especially the
Baked Spiced Squash
... Check out the recipe below then enter for your chance to win a Country Crock Holiday Veggie Kit of your own!
Baked Spiced Squash
Recipe Serves: 4
Prep Time: 10 minutes
Cook Time: 45 minutes
Ingredients:
2 Tbsp. Country Crock® Spread
2 Tbsp. pure maple syrup or pancake syrup
1/2 tsp. ground cinnamon
1/8 tsp. ground black pepper
1 medium butternut squash, halved and seeded
Directions:
Preheat oven to 400°. Lightly grease baking sheet; set aside.
Combine all ingredients except squash in small bowl. Arrange squash cut side up on baking sheet; brush with 1/2 of the Spread mixture.
Bake 45 minutes or until squash is tender, brushing with remaining Spread mixture halfway through cooking.
One lucky reader is going to win a Country Crock Holiday Veggie Kit (ARV $75).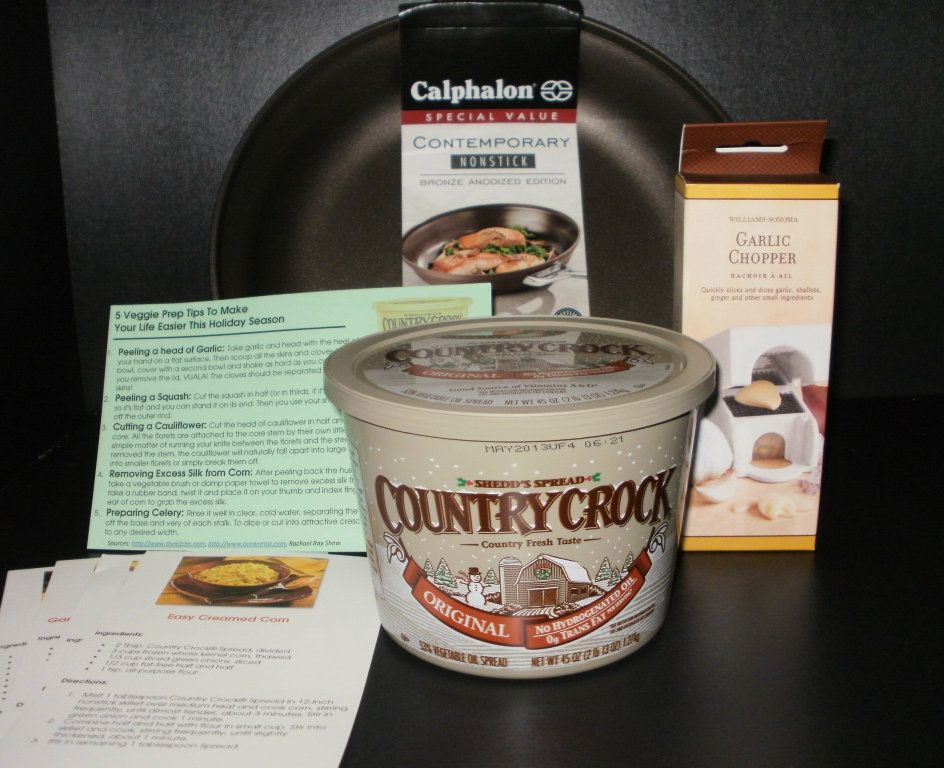 Enter using the Rafflecopter form below.
a Rafflecopter giveaway