You may remember a few months ago when I reviewed the
Z-Curve Bow
from Zing Toys. Now let me introduce you to the newest addition to the Air Storm line, the Z-Tek Cross Bow.
Designed for ages 8 and up, the Air Storm Z-Tek Cross Bow is the ultimate
foam dart cross bow
. It features an innovative extension application that offers two distinct firing modes, short range and Power-Shot. While in short mode watch as the arrow shoots up to 35 feet, perfect for tight spaces. Then switch to Power-Shot mode and see the arrows soar 45 feet. Pick your target, then quickly, load, aim and fire. For the Z-Tek Power-Shot, push and hold the button and extend and lock the body of the cross bow. The amazing Zartz will stick to almost any surface for 15 to 30 seconds then auto-releases.
My boys already love their Z-Curve Bow so of course they were excited to give the Z-Tek Cross Bow a try. Now we do need to keep in mind that the cross bow is designed for older kids so my boys can't exactly fire the arrows the 45 feet that it's capable of but they still have a lot of fun with it. Since Brayden's been practicing with the Z-Curve Bow, I would say it's definitely helped him shoot this one a little easier. Trevor, on the other hand, needs help from Mommy or Daddy, which doesn't bother him at all!
What's great about the
Z-Tek Cross Bow
is the fact that the Zartz stick to so many surfaces without damaging them. It's great for indoor or outdoor use, as long as we do not shoot at the television or other super important things in the house. Don't want your kids shooting at the walls? No worries! The Z-Tek Cross Bow comes with a Mega Target for them to shoot at!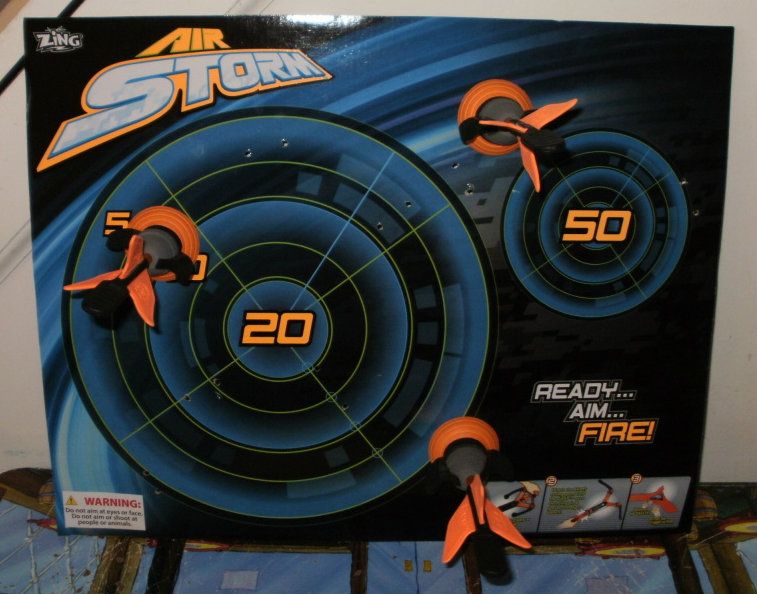 Overall, we love the Z-Tek Cross Bow just as much as the Z-Curve Bow and probably as much as we'll love the next Zing Toys Air Storm product we own! You can purchase the Z-Tek Cross Bow for a suggested retail price of $24.97.