Both of my boys are huge fans of the Cars movies. I mean, who isn't right?! They're full of adventure, humor, and all-around fun... I know I personally enjoy them almost as much as my boys do. That being said, you would not believe the excitement when Mattel offered to send us a Cars Lightning McQueen Hawk to review this holiday season.
Cars Lightning McQueen Hawk is an interactive
Lightning McQueen toy
that transforms from an automobile to an action-ready airplane, complete with wings, jet-like engines, and launching missiles, all with a simple pull of his back flap.
What my boys really love about this Lightning McQueen is the fact that he has a built-in sensor, so he can detect how your kids play with him, then he responds with sounds and phrases corresponding to his movements. For example, in automobile mode he reacts to popping a wheelie, driving backwards, and flipping upside down, and in airplane mode, he talks while banking left, barrel rolling, climbing, and more.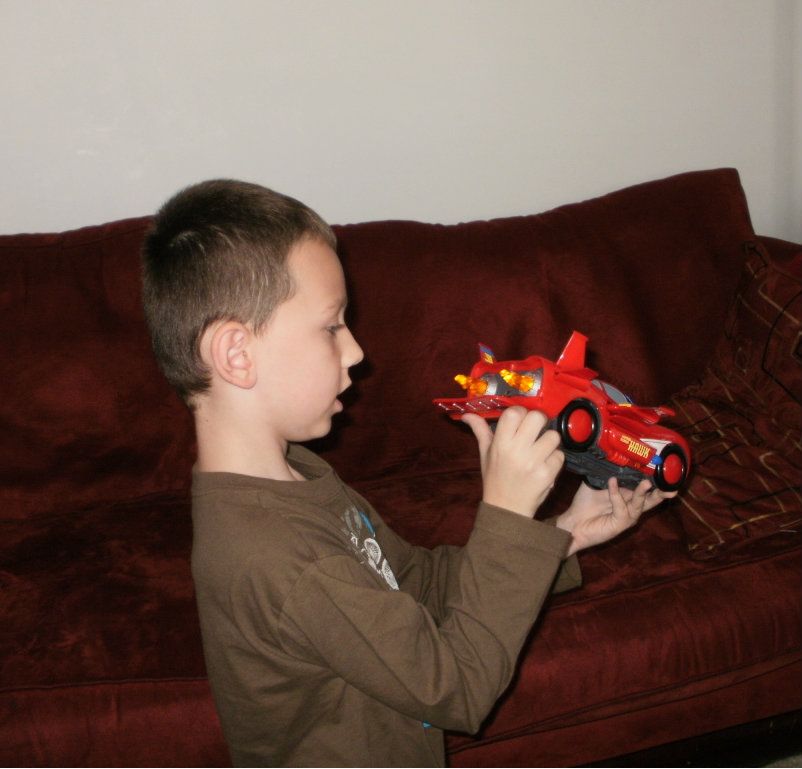 Lightning McQueen Hawk
is definitely one of the funnest Cars toys I've ever seen. Kids can fly him around one minute, transform him in seconds, then drive him around the room. He has super fun missiles that can be launched at enemies with the simple push of a button. And of course, the sounds and phrases are sure to brighten any kids day.
Overall, this toy has been a huge hit with my boys and I'm sure any Cars fan will love it just as much! You can purchase Cars Lightning McQueen Hawk from Mattel for a suggested retail price of $43.99.