My boys have always been into things they can collect. It started out with Silly Bands and Jibbetz and has since moved onto bigger and better things... Meet our newest collection obsession, Trash Pack Trashies!
The
Trash Pack
is a collection of icky characters named after all of the gross things you might find in your trash can. There are over 100 Trashies to collect, with each one having a different rarity. Kids can collect them, trade them, and play with them with the variety of Trash Pack play sets and accessories.
Moose Toys recently sent us a couple Trash Pack toys to review and they became an instant hit with my boys. We received the Atomic Drum Ooze Chamber, the Wheelie Bin Ooze Slide, and a couple Series 2 Collection Packs.
Atomic Drum Ooze Chamber:
Squish your Trashies in the compactor or lose them in the Atomic Ooze! Lift them to safety, but beware the trap door! Comes with two exclusive Trashies, Molecular Mouse and Atomic Ant.
Wheelie Bin Ooze Slide:
Watch your Trashies grind through the grotty cogs. Slide 'em down the ooze slide or flip 'em from the top of the bin! Comes with two exclusive Trashies, Ear Wax Ball and Gutter Grub.
Trash Pack Trashies
and accessories are absolute perfect toys for boys. They're gross, they're squishy, and best of all, they're fun! Brayden and Trevor love them so much that they've put a few other Trash Pack play sets including the Grabage Truck and Street Sweeper on their lists for Santa this year... I can't wait until Christmas to see the looks on their faces when they open them!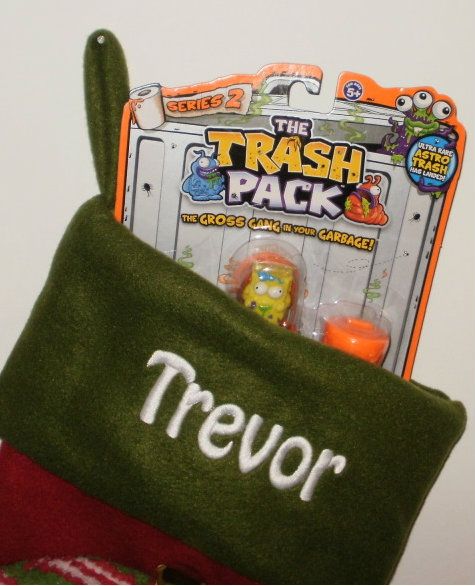 Do your kiddos love collecting? Why not fill their stockings with Trash Pack Trashies this year! The Trash Pack Collection is available at Toys R Us, Target, Walmart, K-Mart, and Five Below stores nationwide.