I have always admired stainless steel appliances. The sophisticated, modern look... I mean, what's not to love? So of course I was super excited when Amana offered to send us a Stainless Steel Refrigerator to review.
Not familiar with Amana? Amana manufactures a large variety of easy to use and simple to care for appliances. They offer appliances without the bells and whistles, just smart, simple appliances for everyday people. I personally love that about them, the fact that they focus on quality rather than pizzazz makes me sure that I'll be getting an appliance that I can rely on for years to come.
We were given the opportunity to review the 18.5 cu. ft.
Stainless Steel Bottom-Freezer Refrigerator
and I absolutely love it. First of all, I've never owned a bottom-freezer refrigerator so I was super excited to give this baby a try. It definitely took a little getting used to, I don't know how many times I've opened the fridge thinking that it was the freezer, but now that we've had it for a few weeks I don't know what I'd do without it!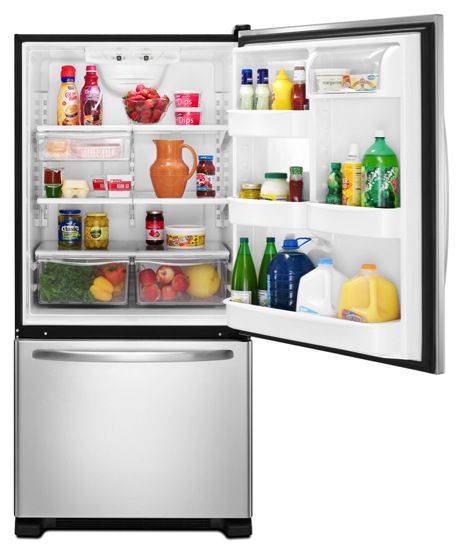 The 18.5 cu. ft.
Bottom-Freezer Refrigerator
is super spacious with four half-width adjustable shelves, gallon door storage, a dairy center, deli drawer, two crisper drawers, and even adjustable door bins. It's super easy to adjust the shelves and door bins so that you can fit everything exactly where you want it. But my favorite features are the Adjustable Spillsaver glass shelves that help keep spilled juice contained rather than leaking all over your fridge.
The EasyFreezer pull-out drawer has become another favorite feature of mine. The door opens and closes so smoothly, even when the freezer is filled to the brim. The freezer features two wire baskets so that you everything is organized and easy to find. The upper basket slides out easily so you can find exactly what you're looking for, while the bottom basket is spacious and holds tons of frozen foods.
I honestly can't say enough great things about the refrigerator from
Amana
. It's modern, it's roomy, it's ENERGY STAR qualified, it's basically everything anyone could ask for in a fridge! Plus it comes in a larger 21.9 cu. ft. size for those with more space in their kitchen.
You can purchase the 18.5 cu. ft. Bottom-Freezer Refrigerator from Amana in black, white, or stainless steel for a suggested retail price of $1249 to $1449.